Helping Insurance Professionals Get Interviews Since 1995
The Claims Adjuster position is expected to experience a 4% growth from 2012 to 2022, according to the Bureau of Labor Statistics. But the life of a claims adjuster is one that can be stressful at times. Accident victims many times yell at you. And sometimes there are even physical confrontations to deal with in face-to-face under circumstances that are not always pleasant. When handling a 150-file caseload, this can definitely make your day-to-day a challenging one. We are here to make it easier.
The Resume Clinic has assisted insurance professionals with claims adjuster resume writing services that get results. Our clients span the entire planet, as we employ an online business model that saves you time and money. We ensure that your reader quickly and clearly sees your ability to gather and interviw handle witness, evaluate damages, negotiate settlements and work with law enforcement and attorneys, along with other high priority skills. Look at an example of work we have done for an insurance industry client: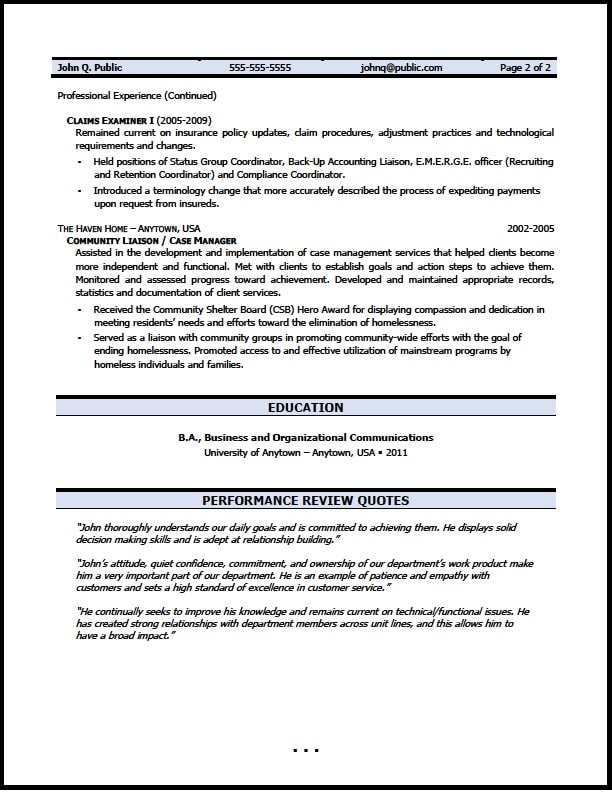 Claims Adjuster Resume Writer Process
With The Resume Clinic, you get certified resume writing professionals skilled in print marketing strategies that  promote reader engagement and comprehension. A good resume is about more than job descriptions. A good claims adjuster resume writer also understands the use of document structure, strategic content placement, proper margins/spacing and font choice. We build resumes that bring consistency in interviews and faster job search success. Additionally, we conduct keyword research for every resume project to ensure that applicant tracking systems (ATS) have something to grab onto when recruiters and hiring managers perform database searches for qualified claims adjuster candidates.
Let's Get Started
Time is money. And the longer you wait, the more a sluggish job search is costing in terms of lost income opportunity. Place your order today and start the ball rolling to move your job search into overdrive.
⭆⭆ORDER HERE ⭅⭅
Or call us today at
888-291-9821
Hey, were you aware that almost 90% of recruiters say that they have hired at least one candidate through LinkedIn? In fact, there are some positions that specifically request your LinkedIn URL  as a standard part of their application process. We offer this service at discount for our resume writing clients. Click here to see what we can do for your profile.